Somnath temple is one of the Jyotirlingas of God Shiva in India. This temple is located at Sea's side on the west coast of Gujarat State.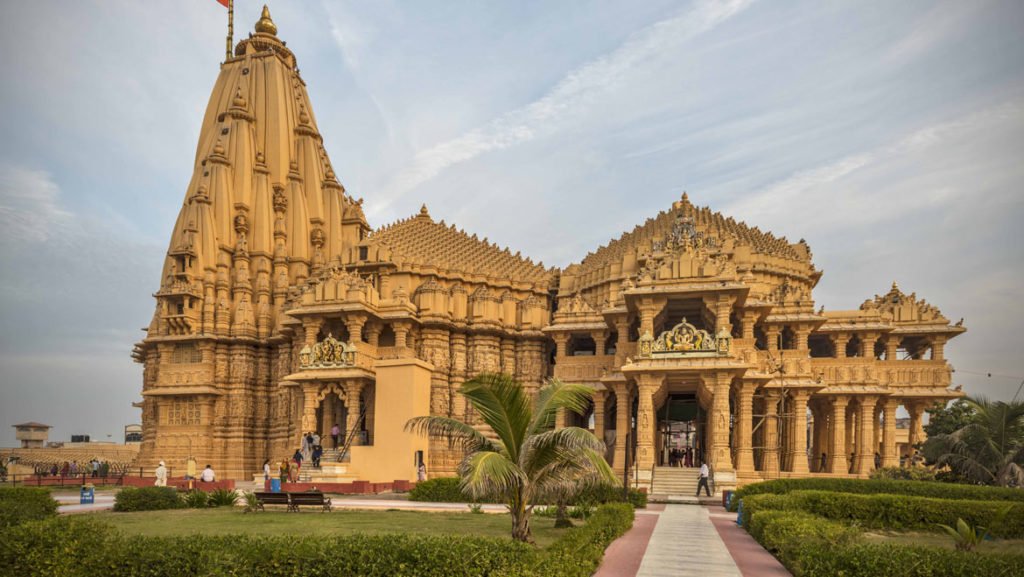 Location: In Prabhas Kshetra near Veraval in Saurashtra, Gujarat
Dedicated to: Lord Shiva
Significance: One of the 12 Jyotirlingas of Lord Shiva
History of Temple:-
Maintaining the original site, the present temple is said to have built for the seventh time. The first temple of Somnath is regarded as a structure in Gold, made by Moon God himself. In the 7th century, Somnath Temple was reconstructed by Maitraka kings of Vallabhi in Gujarat. The second structure was destroyed by the Arab governor of Sind by the name of Junayad in 725. Again in 815, the third structure was built by Nagabhata II, who was a Pratihara King.
This structure was erected out of red sandstone. In 1024, the temple was raided by Mahmud Ghazni, who took camel-loads of jewels and valuables from here. The Paramara King Bhoj of Malwa and the Solanki King Bhima of Gujarat (Anhilwara) took the initiative to rebuild the temple during 1026-1042. For the fifth time, the wooden structure was replaced with a stone structure by Kumarpal.
Consequently, the temple was destroyed in 1297 by the Sultanate of Delhi and once again in 1394. The last attack was made by the Mughal Emperor, Aurangzeb in 1706. The present temple was built in 1995 by Shree Somnath Trust in the company of the Government of India. Today, Somnath Temple is under the maintenance of Shree Somnath Trust.
Somnath Temple stands as a symbol of the rich cultural heritage of India. The mention of this ancient temple has been made in the scriptures like 'Rig Veda' of the Hindu origin. The term Somnath suggests 'the protector of Moon God'. Lord Shiva is depicted here in the form of a Jyotirlinga (linga of light), as the protector. The incredible temple of Somnath is called as 'the Shrine Eternal' since the temple has been shattered for not less than six times and every time, it has been reconstructed.
Somnath Temple has a legend behind its establishment. It is believed that Lord Chandra (Moon God) was very proud of his beauty. Due to this reason, he was cursed by his father-in-law Daksha, to get smaller. In order to get rid of this curse, Moon God prayed to Lord Shiva at Prabhas. Lord Shiva became happy with the penance of the Moon and reduced the curse to an extent. This incident led to the periodic waning of the moon.
Arati timing at Somnath temple:-
Morning 7.00 AM, 12 Noon & Evening 7.00 PM
Darshan timing is morning 6.00 AM to 9.30 PM
Outside the main temple complex, there is a large display board where you can have a clear view of the Shiva Linga inside and watch Arati.
After visiting the temple you can walk around the main temple and see the exhibition of famous Shiva temples including all Jyotirlingas around India.
Tourist Points around Somnath:-
Old Somnath temple ( Near the main temple )
Triveni Sangam ( three rivers Hiran, Kapila & Saraswati ) joins Sea here
Sarada math
Surya temple ( sun temple ) & Mata Hinglaj Mataji Gufa
Geeta Temple
Baldev Ji Gufa ( cave )
Laxminarayan Mandir
Mahaprabhuji Bethak
Krishna Paduka
Sasivusan Mahadev Somnath
Bal Gangeshwar temple Somnath
Veneshvar Mahadev temple
How to Reach Somnath?
Connected by rail and road from main cities of Gujarat. Overnight buses available from Ahmedabad and Dwarka. Devotees and tourist visit Somnath before or after visiting Dwaraka temple.
Somnath to Junagadh is 80 KM
Somnath to Chorwad is 25 KM
Nearest Airport is Rajkot.
Somnath Railway station ( Station Code: SMNH )
There are direct trains from Ahmedabad to Somnath. Jabalpur Express (No: 11466 ) reaches in the evening at Somnath.
VERAVAL (station code: VRL) is 6 KM from Somnath. Somnath express No: 19221 ) runs overnight from Ahmedabad to Veraval ( reaches morning 6.30 at Veraval )
If you are traveling from Dwarak side then Okha – Somnath express ( Train No: 19252) leaves Dwarak at evening 8.30 and reaches morning at Somnath.
There are plenty of Auto – Taxi available at Somnath and Veraval station to take you to hotels or temple.
Duration of Stay at Somnath
One night's stay is advisable. However, if you are reaching in the morning hours then you can plan your return journey in the evening or night.
For photography, morning time is best as sunlight falls on the temple. However, you can take a photo of sunset along with a temple here.
Sasan Gir Near Somnath.
Take a day trip to Sasan and visit the Asia largest Lion habitat. Sasan is one hour journey from Somnath.
Jeep Safari at Sasan Gir
You can book online for your jeep safari.
Bus safari ( Rs 180 /- per head )
The bus starts from 8 AM till 11 AM and in the afternoon it starts at 2.30 PM to 5 PM. The duration of the trip is one hour. Wednesday no bus service is available.
Local Taxi cost for visiting Sasan:-
Type of Vehicle Sasan Gir Diu
Indica- Rs 1660 2200
Indigo- Rs 1800 2400
Etios / Dzire- Rs 2000 2600
Innova- Rs 3000 3600
Journeytoexlore is the india largest traveling portal that will help you to customize your tour package depending upon your needs and requirements.
Feel free to call us for booking or arranging an unforgettable trip at 9910656940 or Email us at journeytoexplore9@gmail.com.